Top New Features in Adobe Acrobat X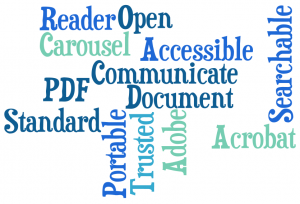 Note: Even though the latest version of Adobe Acrobat is now Acrobat XI (version 11), many organizations haven't yet upgraded and are still using Adobe Acrobat X (version 10) for viewing, managing, and manipulating PDF files.
We live in a digital world, and so, it's not surprising that Portable Document Format files (PDFs) are one of the fastest growing document types today. Are you taking advantage of all of these new features in Adobe Acrobat X?
New & Improved Features in Acrobat X
A Brand New Interface. For many, the Acrobat X environment is drastically different. Many of the menus have been removed and replaced with commonly used panels such as Tools, Comment, and Share (similar to panes in Microsoft Office). The new Quick Tools toolbar can be easily customized with frequently used features such as the sticky note and typewriter tools. However, unlike recent versions of Microsoft Office which primarily uses a Ribbon interface, Acrobat X still retains some use of menus and toolbars.
Sanitize Your Document. As with Microsoft Office 2010 and Office 2007, you can now remove metadata (such as author and document dates) and other sensitive information including comments and links.
Save PDF Content as a Word or Excel file. Although this feature has been in Acrobat for some time, saving PDF files as Word documents now maintains more of the original document formatting and layout. Word documents created from earlier versions of Acrobat usually required a lot of re-formatting and time to produce a useful output.  Now your results will be much easier to use. You can even select a portion of a PDF file and convert the content to an editable Excel file in just a few minutes.
New Viewing Mode. The new Reading Mode in Acrobat X focuses just on the PDF document and the toolbars and panels disappear. Just move your mouse into the screen to display a transparent floating toolbar to help you navigate your PDF files more easily.
Password Strength Meter. If you add password security to a PDF, Acrobat X makes this feature easier by showing you the strength of the password as you type it in.
Enhanced PDF Portfolios. Although PDF Portfolios have been around in Acrobat since version 8, Acrobat X has added a host of new features to the mix. Using the new PDF Portfolio Wizard, you can customize your portfolios with new layouts and other enhancements. Not familiar with portfolios? This is a great way to package a variety of files into one nicely formatted and shareable package without the need to convert each file into a PDF.
Discover more Adobe Acrobat shortcuts, tips and tricks here.
By Dawn Bjork, MCT, The Software Pro®
Microsoft Certified Trainer, Technology Speaker, Software Consultant