Outlook 2013 Tips, Tricks & Techniques-eBook
Outlook 2013 Tips, Tricks & Techniques
Shortcuts & Solutions to Make the Most of Microsoft Outlook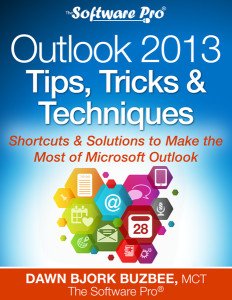 Do you ever feel overwhelmed by email? Have you ever spent more of your day wading through your email than managing your work? Are you looking for ways to spend less time creating, managing, and answering messages? In this book, discover time-saving Outlook 2013 tips and techniques to be more productive.
has been added to your cart!
have been added to your cart!
Learn the new features in Microsoft Outlook 2013
Be more productive with Outlook shortcuts
Explore great ways to customize how you use Outlook 2013
Find tips and tricks for easy organizing, searching, and managing your work
Learn best practices and techniques for handling incoming email
Simplify your use of Outlook 2013 with tips for composing and sending email messages
Boost your Outlook expertise with tricks for contacts, calendar, tasks, and notes
Discover techniques even most Outlook experts don't know
… and much more!
Discover tips and techniques on how to overcome email overload and be more productive by writing more effective email messages, reducing the volume of email, and improving how you process and organize your incoming email. Also find out how to best take advantage of other key tools in Outlook 2013 including Contacts, Calendar, Tasks, and Notes.
Explore over 125+ content-packed pages! eBook (full-color, digital download only-PDF format): $14.99
eBook Digital Download (PDF Format)
has been added to your cart!
have been added to your cart!