As the number of virtual meetings has dramatically increased, you've likely seen or even added virtual backgrounds in the Zoom platform. Did you know you can now also work with virtual backgrounds in Microsoft Teams? What are your options to customize your meetings with Teams virtual backgrounds? Watch this video or follow the steps below to find out how to change your background in Microsoft Teams.
When you're on a Teams meeting, whether it's an impromptu Meet Now or a scheduled meeting, there are some key elements that will definitely improve engagement and connection. And these include having good lighting and audio but also making sure that you don't have a distracting or cluttered background. Now, what are your options if you can't easily control your physical background? In Microsoft Teams, your choices are:
Blur your background. This artificial intelligence (AI) feature, which has been available for a few years now, blurs out your background so it's not distracting. This option also covers up your background if there's confidential or other business information behind you. Keep in mind this doesn't blur or mute background noise from barking dogs, disruptive neighbors, or uncooperative kids.😉
Teams preset images. Introduced in April 2020 due to the surge of virtual meetings, this option now makes it possible to choose from a selection of Microsoft Teams background images ranging from modern office and home environments to gaming and animation virtual backgrounds.
Custom backgrounds. In addition to a library of built-in virtual backgrounds, Microsoft Teams recently introduced (in June 2020) the option to add your own images which may include backgrounds you've downloaded from a company or stock photo site, or your own photographs and graphics. To find free images from your favorite companies, movies, or TV programs, search for "Zoom virtual backgrounds" and you'll find background images you can download from Disney, Star Wars, Airbnb, IKEA, many television programs, and much more.
How to Add Virtual Backgrounds in Microsoft Teams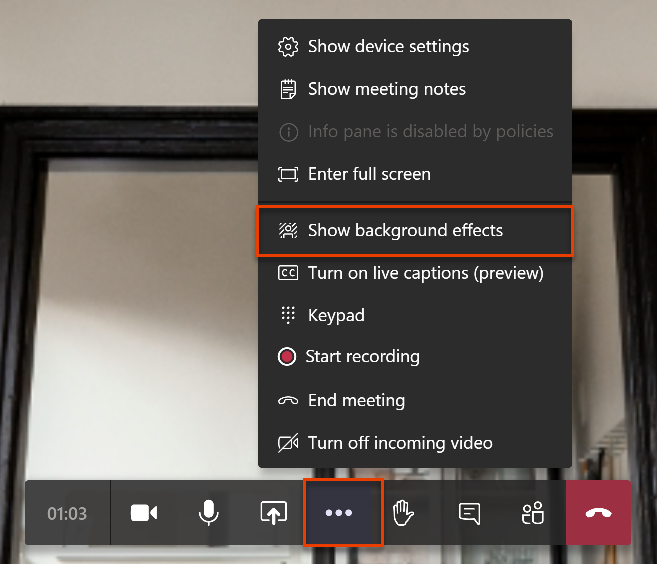 To add a pre-set virtual background in Teams:
Before you join a meeting, or even if you're in a meeting, hover over the . . . (More) button on the meeting toolbar and select Show background effects.
Here, you'll see options for Background settings. The first choice is None. The next is Background blur. And as you select these different options, then you have the choice at the bottom to Preview or to Apply. So you can Preview your choice ahead of time and other people would not see it until you choose the Apply option.
The next group of choices are built-in images you can choose in Teams. Select a background and then pick Apply or Apply and turn on video (if your camera is turned off) and your new background will display.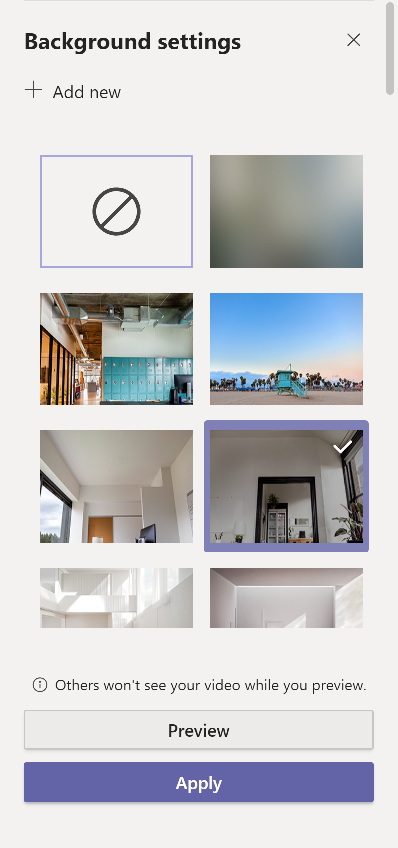 To add a custom virtual background in Teams:
Before you join a meeting, or even if you're in a meeting, hover over the meeting toolbar on the . . . (More) button and select Show background effects. Next, you'll see options for Background settings.
To add your own images from a commercial download, stock photo, or your own images, simply choose Add new at the top.
Navigate to a location where you have stored these images. It can be helpful to store all of your virtual backgrounds in one place but that's not necessary. Select each image to add them. Once you've added these they will display as a choice under Background settings. As before, you have the option to Preview first or Apply or Apply and turn on video.
How to manually delete or add virtual background images
Here's a bonus tip. What if you got a bit carried away and now you want to delete or manage some of those backgrounds you added in Teams?
To manually delete or add virtual backgrounds in Teams:
Launch the File Explorer in Windows and add this location in the address/URL bar and press [Enter]:
%APPDATA%\Microsoft\Teams\Backgrounds
From here, you will see the pre-set backgrounds that you have worked with before in Teams. The Uploads folder is where you have your custom virtual backgrounds. So if you got a little bit excited about this option to add your own images and now you've changed your mind, you can remove them from the list that displays in the Teams Background settings.
To delete the images you no longer want to work with, open the Uploads folder. Select and delete the images you don't need. You can also copy in images to this folder as an alternative step for adding custom backgrounds.
Close File Explorer when you're done.
I'm guessing as Teams evolves this delete or manage feature will eventually be added to the background options in Teams.
Try these tips to save time and effort and have fun by adding background images to your next meeting in Microsoft Teams. For more tips and articles on being productive with Microsoft Teams, visit TheSoftwarePro.com/Teams.
Would you like to learn more? Let's talk about adding virtual Microsoft Teams training to help you be more productive with your transition to Microsoft Office 365.
By Dawn Bjork, MCT, MOSM, The Software Pro®
Microsoft Certified Trainer, Productivity Speaker, Software Consultant