What is your response when you hear about yet another update to the omnipresent Microsoft Office suite? Excitement … dread … fatigue? As a Microsoft Certified Trainer, Microsoft Office expert, and technology speaker, I'm often asked about new features and if the latest upgrade is worth the time and money. Although there aren't a lot of must have improvements, there are some handy new features to get to know as an update is likely in the future for Microsoft Office users, especially with the move in many organizations to Office 365.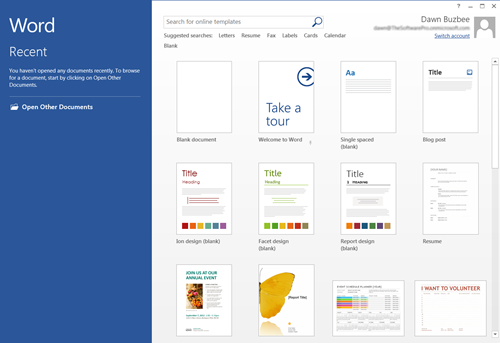 One feature in Office 2013 I haven't warmed up to is the Start Screen that appears when you launch Word, Excel, or PowerPoint (plus Publisher depending on your version of Office). This is a handy starting place with a quick way to access recent documents or even create a new one using a template, but I'm not a fan. Maybe it's because I've been using these programs since the very first versions of each but I've grown accustomed to the initial blank document screen when any of these programs opens. It feels like this new landing page gets in the way of my productivity.
Fortunately, it takes just a few steps to change Office to bypass the Start Screen.
(These steps also work for Microsoft Office 2016 and Office 2019 programs)
Bypass Office 2013 Start Screen-Option 1:
If you don't want to change your application options, simply press [Esc] to leave the Start Screen and move to a blank document, workbook, or presentation. You need to do this each time you launch Word, Excel, or PowerPoint.
Bypass Office 2013 Start Screen-Option 2:
If you want to make the change once and say goodbye to the Start Screen, here are the steps to turn off the Microsoft Office 2013 Start Screen using Word as an example:
Run Word. Move past the start screen by pressing [Esc], open an existing document, or create a new one.
Pick File > Options.
From the General window/tab/category (which should be the default), move to the "Start up options" section at the bottom. Uncheck the box marked Show the Start screen when this application starts.
Click OK.

It's that easy! Now just repeat the process in Excel 2013 and PowerPoint 2013. The next time you start any of these programs, you'll go straight to the edit screen or blank document, just like in earlier versions of Microsoft Office. You can still access the program templates with File > New.
What do you think? Do you like the new Start screens in Office 2013 or do you plan to turn them off
By Dawn Bjork, MCT, The Software Pro®
Microsoft Certified Trainer, Technology Speaker, Software Consultant