Windows XP: Microsoft Support for Windows XP and Office 2003 Ending Soon
Originally launche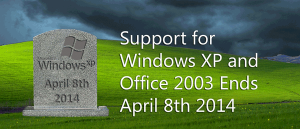 d in 2001, Windows XP is Microsoft's most successful operating system. After 12 years, support for Windows XP and Microsoft Office 2003 ended on April 8, 2014, a move that was first announced four years ago. There will be no more security updates or technical support for the Windows XP operating system. As Windows XP comes to the end of its life, loss of support is a big issue considering that an estimated 25 to 30 percent of Internet-connected PCs still run Windows XP. Even with multiple updates to Windows operating systems, Windows XP is still the second-most used OS on nonmobile computers, according to Net Applications. Note: This announcement was shared in March 2014. Many organizations have since upgraded to Windows 7 and Windows 10.
Windows XP Support Ends with Other Software Companies
Microsoft isn't the only company ditching XP. Not only can Microsoft wash its hands of Windows XP support, but so can all the companies like McAfee that made software for XP. What this means is that support and security updates for Windows XP applications will cease and security breaches will likely be an increasing problem with Windows XP systems. To add to the confusion, Microsoft announced in January that it will continue to provide anti-malware updates for XP until July 2015. That's more than a year after XP support officially ends April 8.
What should a company do? Do nothing and risk increased security problems with Windows XP, pay high fees for Microsoft custom support contracts for Windows XP, or upgrade to Windows 7 or Windows 8.1.
To find out more about the end of support and your options, check out this informative article from PCWorld.
By Dawn Bjork, MCT, The Software Pro®
Microsoft Certified Trainer, Technology Speaker, Software Consultant