How can you save time in Microsoft Outlook? In Outlook, there are four ways to automate email responses: Templates, Signatures, Quick Parts, and Automatic Replies, often referred to as Out of Office replies. The Automatic Replies or the Out of Office (OOO) feature tells people who send you an email when you're not available to respond to their messages. Note: This time management tool requires a Microsoft Exchange server account or Exchange Online through Office 365. Standalone versions of Outlook running on individual computers do not support the Out of Office feature.
To learn more about working with the Outlook Automatic Replies, watch this video or continue reading this article:
To turn Automatic Replies on or off:
Choose the File tab, then choose Automatic Replies from the Info tab.
Your next step is to choose Send automatic replies.
Next, specify the timeframe with the start and end dates.
Always check your outgoing message to make sure you have updated your information and message. You've probably seen these where you get an Out of Office response, and it has a message with old dates or contact data.
One of the neat tricks that is really valuable is you can have a different response for Inside my organization versus Outside of my organization. In addition, your Out of Office message could be to anyone or only your contacts, so it can be highly customized.
Finally, choose OK to turn on your Automatic Replies.
Customizing Your Out of Office Messages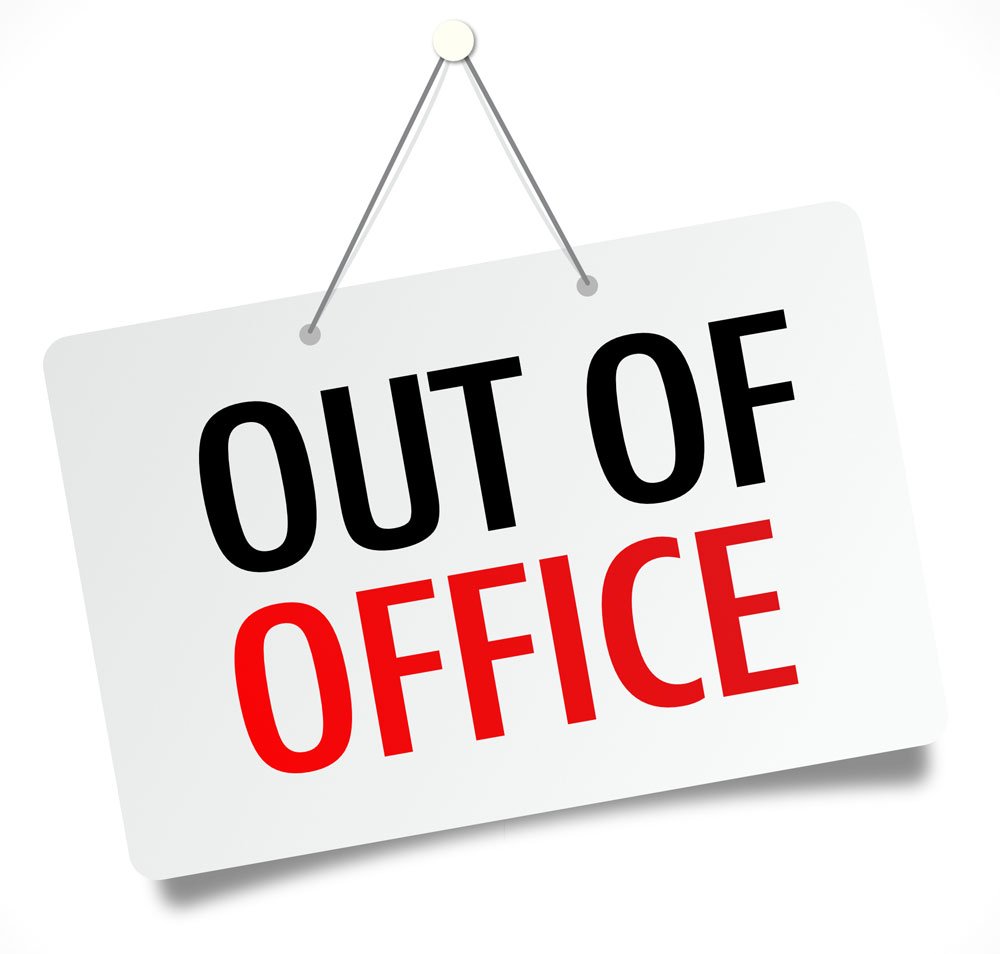 Your Automatic Replies or Out of Office messages can be formatted as you wish to include different size fonts and can be tailored to your audience. Although it's helpful to be engaging, you really don't have to be clever or creative. Just be clear with your communication. Your Out of Office messages should include at least these three things:
How long will you be gone,
When will you return, and
Who would be the alternate contact if it's urgent?
However, like your signatures, your Out of Office message can also be an excellent opportunity to connect in other ways, such as:
Lead generation: Share newsletters or upcoming events.
Content promotion: Link to recent blog posts, white papers, or other free downloads.
Social media engagement: Share links to social media for your brand or for new products.
Additionally, your messages can be tailored a little bit further through rules which are also found within the Automatic Replies dialog box. With rules, you could, for instance, set up the option to forward a copy of messages from a specific group of contacts. So if an email is sent by a key client, it could be forwarded to someone else on your team who's responsible for managing that communication. As rules can be highly customized, consider how those might be helpful for you when you're building your Automatic Replies.
Turning Off Automatic Replies


Once you turn on Automatic Replies and return to the office, how do you know this feature is enabled? From the Outlook Info tab, it's pretty obvious when the Automatic Replies feature is turned on (see the first example above). Or, from the Outlook Inbox at the top, you'll see that we also have this prompt (second example above) that Automatic Replies are being sent out for this account, and so, from either of those locations, we have the option to be able to turn it off.
How will you save time and take advantage of the flexibility of your out of office messages?
For more time-saving Microsoft Outlook techniques, find additional shortcuts, tips, and tricks at TheSoftwarePro.com/Outlook.
© Dawn Bjork, MCT, MOSM, CSP®, The Software Pro®
Microsoft Certified Trainer, Productivity Speaker, Certified Speaking Professional