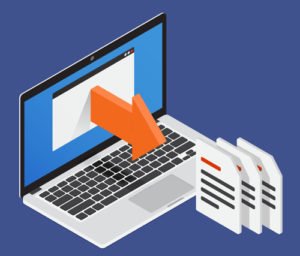 One of the frequent questions I hear about formatting Microsoft Word documents is "How do I add a filename to a Word document?" Think about how helpful this would be–files are often stored in many different folders and locations that can be challenging to manage. And how many times have you named a file with what seemed like a descriptive label, only to waste minutes or even hours trying to locate the document later? How many times have you clicked through multiple drives and folders looking for an important file?
And it can be even more frustrating to find a file now that documents can be stored in so many places–network drives, external drives, OneDrive, SharePoint, and in the cloud.
Now, with just a few steps, you can add a descriptive filename to a Word document header or footer. Another choice is to add the document filename at the end of the Word file to simplify filing and tracking whether the document is printed or shared digitally. Sounds like a great idea? It is if you could just find this non-intuitive, hidden option in Microsoft Word.
Follow these steps to add a filename to a Word document:
Move to the location where you want to see the filename and optional file path. This might be the document header or footer or any other location in the file, such as the end of the document.
Click on the Insert tab and choose Field from the Quick Parts drop-down list (found in the Text group on the Ribbon).
Choose these options from the Field dialog box:
Categories = Document Information
Field name = FileName
The Format is optional but includes a number of text displays: Uppercase, Lowercase, First capital, and Title case.
To include the file path, also choose the option Add path to filename.
Choose OK to add the field to your document.
Here's an example of the field results with a lowercase format:
c:\users\dawn\documents\office example files\chocolate.docx
The same field reads a bit different with a Title Case format:
C:\Users\Dawn\Documents\Office Example Files\Chocolate.Docx
The filename field will automatically update if a file is saved with a new name or in a different location. If you click on the field, it will display as shaded to indicate this is an automatic document field; the shading will not show when your work is printed to a paper or digital file. Although we're printing out fewer files to a hard copy, this filename and path document information are still tremendously helpful when a document is shared as a PDF file which may be stored in many different locations.
Bonus Tip: Explore other Field choices, including Date and Time. From here, you can add specific options such as the Date (current date) or the SaveDate.
Now, with just a few clicks, you can easily identify and locate files by adding the filename to your Word documents.
Discover more ways to save time editing and formatting your Word documents at: TheSoftwarePro.com/Word
© Dawn Bjork, MCT, MOSM, CSP®, The Software Pro®
Microsoft Certified Trainer, Productivity Speaker, Certified Speaking Professional